Thousands of activists march through Philadelphia protesting police murder of George Floyd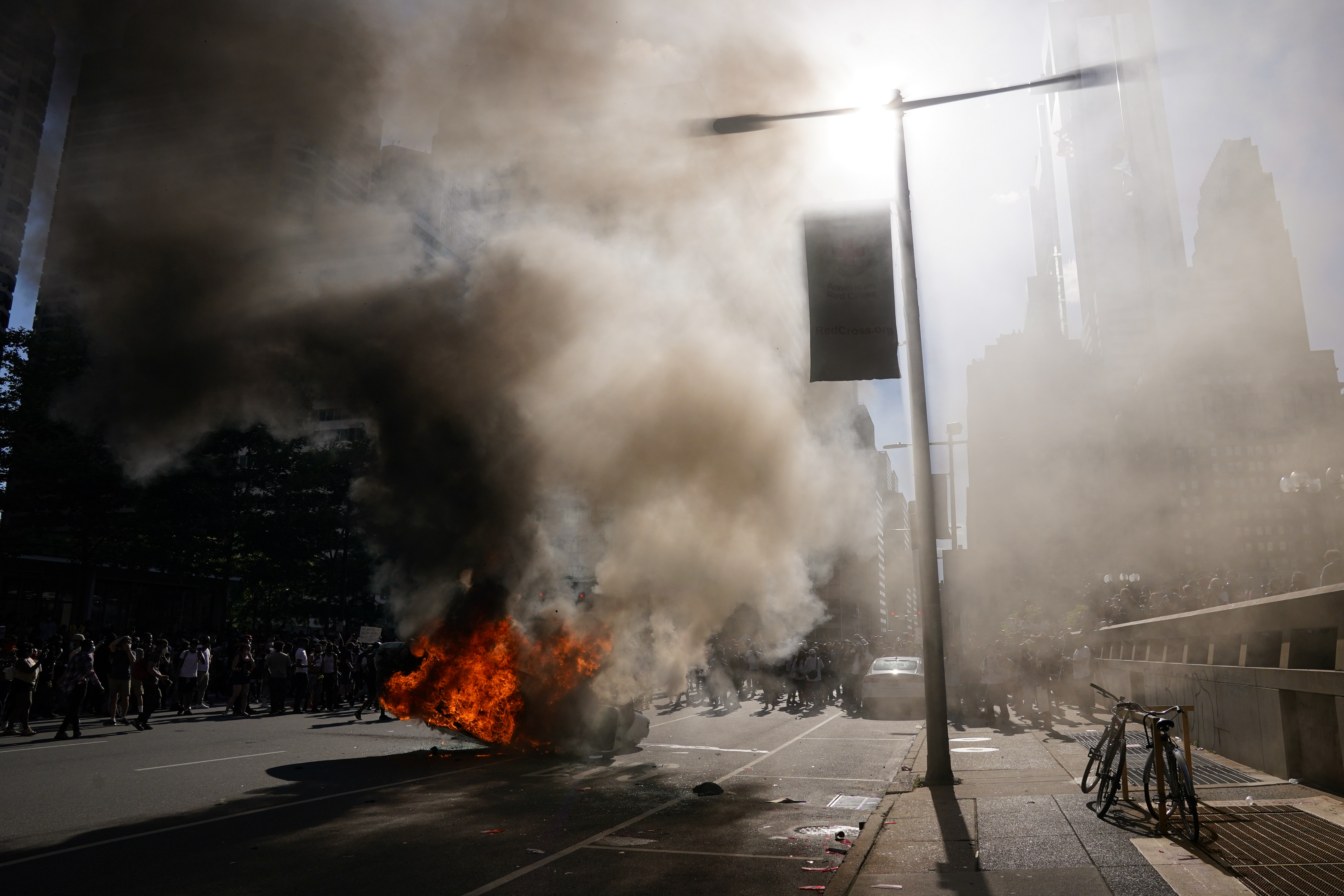 Photo by Chase Sutton
Thousands of demonstrators, including Penn students, took to the streets of Philadelphia on Saturday to protest the recent death of George Floyd, a Black man in Minneapolis, Minnesota, who died after a police officer knelt on his neck for more than 8 minutes.
Although Philadelphia Mayor Jim Kenney said police would be respectful of protesters, the activists were met with tear gas and pepper spray shortly after police vehicles were broken into and set aflame hours into the demonstration. Philadelphia city police requested assistance from United States National Guard troops the following day.
More than two hundred people were arrested after the peaceful protests developed into looting and vandalism on Saturday, ranging from charges of curfew violations — the majority — to weapons violations, according to The Philadelphia Inquirer. The city ordered all retail businesses to shut "immediately" on Sunday afternoon after looting continued in areas beyond Center City.
The protest began at City Hall's Dilworth Park at around 12:00 p.m., when hundreds gathered and knelt in rows, while socially distanced, in honor of Floyd. The crowd quickly grew as the protesters marched to the Philadelphia Museum of Art and filled the air with "No justice, no peace" and "Black Lives Matter" chants.
"I was worried about it being dangerous in terms of COVID-19, but now that I'm out here, I'm very happy that I came, because I really feel like I'm part of something powerful, and part of history right now," rising third year at Penn Law Clayton Keir said. "We're marching for something that's very important, and for something that's important beyond just those of us who are out here today."
At 2 p.m., the group at the museum began marching down Benjamin Franklin Parkway toward City Hall. This demonstration was organized by Black Lives Matter Philly, while the first demonstration was organized by 22-year-old Philadelphia resident Josh Yeboah on different social media platforms.
Yeboah said he is not affiliated with Black Lives Matter Philly, a chapter-based organization of the national Black Lives Matter movement. The movement is considered to have begun after George Zimmerman, a civilian neighborhood watchman, fatally shot Black teenager Trayvon Martin in 2012 and was placed on trial for second-degree murder. Zimmerman was acquitted the following year.
Philadelphia became the latest site in a series of rallies and demonstrations that has swept the nation since Floyd's death on May 25. The officer who knelt on Floyd's neck against the ground for eight minutes and 46 seconds, Derek Chauvin, has since been charged with third-degree murder and second-degree manslaughter.
"I think over the past 10 years, I've been growing increasingly tired and more frustrated with what seems to be happening to my people," rising College sophomore Alexandria Lewis said. "It doesn't matter if you're male, it doesn't matter if you're female, it doesn't matter if you're in a suit, it doesn't matter if your pants are sagging — they're still going to kill you. They're still going to treat you like an animal."
At around 4 p.m., many demonstrators gathered around the 2,000 lb. statue of the late, former Philadelphia Mayor and Police Commissioner Frank Rizzo located across from City Hall, and attempted to bring it to the ground. After nearly an hour, police intervened and began guarding the statue with a blockade of riot shields, which is now vandalized with red and white spray-painted slogans.
After the protests, Kenney announced on Sunday the statue would be removed from its location within a few weeks. The statue, installed in 1999, has been controversial for years, as many view Rizzo as having been discriminatory against people of color and LGBTQ people. In December 2019, the statue was vandalized with the word 'fascist.'
Saturday was the scene of nationwide protests, including nearly 50 trash fires in Los Angeles, protester arrests made in Cincinnati, and crowds of protesters gathering in Detroit, New York City, Miami, and in front of the White House in D.C.
Peaceful protests began in Minneapolis on Tuesday, shortly after news broke of Floyd's death under police custody Monday night, but escalated on Wednesday when demonstrators were met with tear gas and rubber bullets.
After four nights of violent protests in Minneapolis, Minnesota Governor Tim Waltz activated thousands of additional National Guard troops in preparation for a fifth night of protests, The New York Times reported.
As demonstrators began to disperse throughout Center City around 5:30 p.m., four cars, including two police vehicles, were set ablaze in front of City Hall.
Around 6:45 p.m., tensions erupted once again, as police attempted to push protesters away from the graffitied City Hall and surrounding streets. One demonstrator attempted to break through the police barricade and was arrested.
Center City stores along Chestnut and Walnut Streets were looted and vandalized, including the Starbucks Coffee in Dilworth Park which was set on fire.
"We've seen over the years that peaceful protests do not get listened to, they don't get recognized, they don't get heard," Lewis said. "We're being treated with violence, so it's understandable that we respond with violence, and we respond with burning buildings down."
Following the arrest, demonstrators and police remained in a face-to-face standoff on the streets surrounding City Hall. As the 8 p.m. curfew neared, many demonstrators had began dispersing throughout the defaced Center City streets, as store alarms and chants of 'No justice, no peace' continued.
Kenney implemented a mandatory citywide curfew, from Saturday at 8 p.m. through Sunday at 6 a.m., after the protests turned violent. On Sunday evening, Kenney implemented another citywide curfew from Sunday at 6 p.m. to Monday at 6 a.m., shifting the curfew to begin two hours earlier from the original planned hour of Sunday at 8 p.m.
A version of this story was published in The Daily Pennsylvanian on May 30, 2020.