Penn's history of refusing to pay PILOTs, explained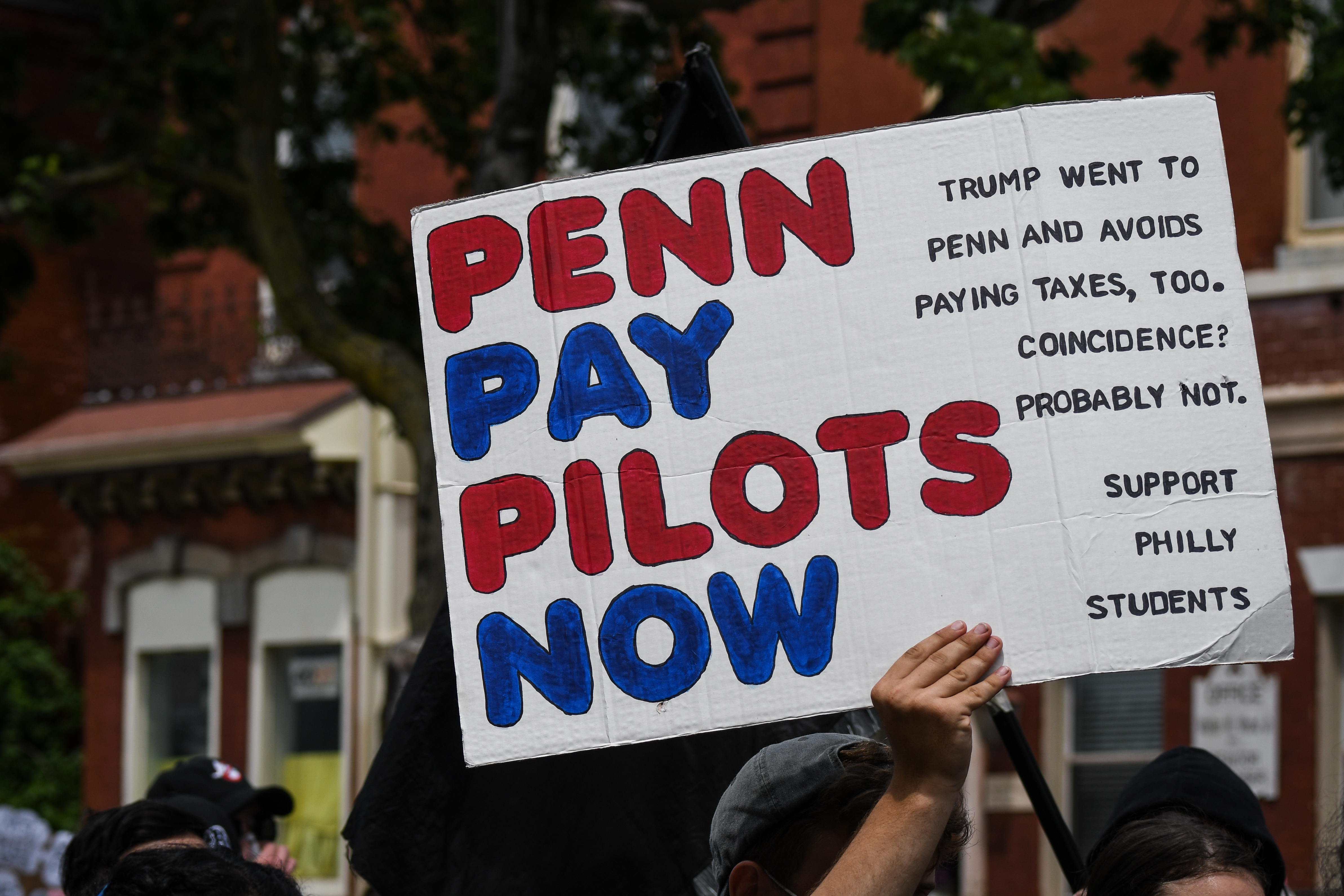 Photo by Kylie Cooper
Penn has a widely known history of failing to pay Payments in Lieu of Taxes, financial contributions that property tax-exempt organizations voluntarily make to local governments.
Student groups and other local organizations have called on the University to pay PILOTs for many years, but recent protests in response to the police killings of George Floyd and other Black people have only caused those demands to intensify as the national spotlight falls on addressing systemic racism and inequality in the United States.
Nearly 700 Penn faculty and staff members have signed a petition calling on the University to pay PILOTs in order to support the Philadelphia public school system, which is projecting significant budget cuts and job losses due to the impact of the COVID-19 pandemic.
But what exactly are PILOTs, why doesn't Penn pay them, and where does that money go instead?
Here is everything you need to know about the relationship between Penn and PILOTs.
What are PILOTs?
PILOTs originate from the tax-exempt status given by the Internal Revenue Service to non-profit entities, such as universities. Universities typically own a large amount of land, but due to their tax-exempt status, they do not have to pay property taxes to their respective city or local governments, forcing local municipalities to make up for the lost tax revenue.
Wharton Finance professor Robert Inman, who has advised both the Philadelphia and Pennsylvania governments, said Philadelphia is unique in that many non-profit organizations own a large share of property that would normally contribute to the economy, unlike tourist-driven cities such as New York City, leading to lost property tax.
Another difference between Philadelphia and other cities, Inman explained, is Philadelphia's reliance on wage taxes.
"When the national economy does really well, Philadelphia does really well because wages go up. But when the national economy has a recession, like right now, wages go down, and of course revenues go down."
Why does Penn not pay PILOTs, and where does the money go instead?
Penn was previously involved in a PILOT program from 1995 to 2000, and contributed $1.93 million annually. The University did not renew the agreement of the program after 2000, and Penn has stood firm on not paying ever since. Penn has been able to do this in part because of the passage of Act 55, the Purely Public Charity Act, passed by the Pennsylvania state legislature in 1997. The act clarified how charities would qualify for the tax-exempt status, and made it easier for non-profits to gain charity status.
Since then, University administration has consistently cited other financial and non-monetary contributions to the city of Philadelphia in defense of not paying PILOTs, arguing they have a greater impact on the community than PILOTs would.
In an emailed statement to the DP, University spokesperson Steven MacCarthy referenced Penn's position as the largest private employer in Philadelphia, as well as its financial contributions to the Penn Alexander School and Henry C. Lea Elementary School, as reasons for not paying PILOTs.
MacCarthy also referenced that "over 500 activities going on in 248 schools" in Philadelphia are run by several Penn departments, including the Graduate School of Education and Netter Center for Community Partnerships.
"We believe that the depth of Penn's financial commitment and the breadth of programs we support has proven to be far more impactful than PILOTS have been in any city where such a program has been implemented," the statement read.
Penn's most recent Form 990 from Fiscal Year 2018 lists the School District of Philadelphia and University City as recipients of cash grant money to domestic organizations. The University City district received $3,664,741, while the School District of Philadelphia received $861,336 in cash grants, according to the form.
Penn's budget has recently come under scrutiny by students and faculty, specifically its $27 million budget for the Division of Public Safety and the Penn Police Department. A number of student and faculty organizations, including Police Free Penn, have demanded Penn divest from local police budgets and reallocate the funds to PILOT programs.
The University also spends millions of dollars on political lobbying. According to Penn's Form 990 from Fiscal Year 2018, the University spent money on lobbying for issues such as education, healthcare, and research funding. Penn spent $5.3 million between the 2010 and 2014 fiscal years on lobbying.
As of June 30, 2019, Penn's total endowment was $14.7 billion. The University currently owns $3.2 billion of property that is not taxed, according to The Philadelphia Inquirer.
Do other universities pay them?
The short answer: yes and no.
Among all eight Ivy League institutions, Penn and Columbia University are the only two that do not currently have PILOT agreements with their local governments.
Data from 2012 from the Lincoln Institute of Land Policy shows that at least 420 non-profit organizations paid PILOTs in the United States. Of those 420 organizations, Harvard University and Yale University paid the two highest amounts, contributing approximately $10 million and $8.1 million, respectively. All six Ivy League Universities that pay PILOTs were in the top 12 of non-profit PILOT contributors, each paying at least $1.6 million to their various municipalities.
In 2018, Harvard contributed $9.8 million in PILOTs, but Boston's local government requested that the University pay almost $12.5 million, sparking backlash from the local community. Yale, Princeton, Brown, and Cornell have also been involved in recent disputes with their city governments regarding how much they should pay in PILOTs.
Other large universities in Philadelphia do not pay PILOTs. Neither Drexel University nor Temple University contribute any PILOTs to the Philadelphia government.
In 2011, nine non-profit organizations in Philadelphia paid PILOTs to the city, totaling $383,652.40. This included the Wistar Institute, which contributed $15,000.
What does the Penn community think?
Students have long disagreed with the University's stance to not participate in a PILOT agreement. In 2014, students led a "die-in" at Penn President Amy Gutmann's annual holiday party in memory of Michael Brown, a Black teenager from Ferguson, Mo. who was fatally shot by a white police officer.
Gutmann joined the protesters, lying down with students from the Student Labor Action Project and Students Organizing for Unity and Liberation. SLAP and SOUL have repeatedly called on the University pay $6.6 million in PILOTs to the School District of Philadelphia, which primarily serves students of color.
In March 2018, student protesters interrupted a University Council meeting to call for Penn to join a PILOTs agreement. The following year, two petitions demanding the University pay PILOTs, including one created by the Penn Student Labor Action Project, garnered over 1,300 signatures combined. In May 2020, Penn Democrats and Penn Student Power joined a coalition of Philadelphia-based groups to urge the University to participate in a PILOT program.
On June 13, two weeks after large protests fighting for racial justice began in Philadelphia as well as across the nation, Penn students and alumni marched from LOVE park to College Green demanding that the University divest from the Philadelphia Police Department and reallocate those funds to support the local West Philadelphia community. The protest followed a petition — now signed by nearly 15,000 people — that demanded Penn pay PILOTs, in addition to reforming the Penn Police Department and cutting ties with the Philadelphia Police Department.
How has the city of Philadelphia responded?
Philadelphia is an "outlier" in that it does not formally seek PILOT agreements with its largest non-profit institutions, The Philadelphia Inquirer reported. Nearly 23,000 properties in the city are exempt from paying property taxes, as they are owned by non-profit or government institutions.
Local Philadelphia officials, however, have previously called on Penn to join a PILOT agreement.
In March 2015, City Councilman At-Large and 1986 College graduate W. Wilson Goode Jr. called on former Mayor Michael Nutter to create a PILOT agreement between Philadelphia and "mega-non-profits." A formal resolution was later approved by the Philadelphia City Council to further push for a PILOT agreement.
Later that year, then-newly elected Mayor Jim Kenney ran on a platform that he would revive the PILOTs program. Kenney and 1993 College graduate and City Councilwoman Helen Gym agreed to work with the largest non-profits in the city, including and especially Penn, to increase the revenue Philadelphia receives from PILOTs.
Since then, however, Kenney has backed away from his initial pledge to create a PILOT agreement with Penn. In 2019, he justified his stance by explaining that the University provides a lot for the city, including thousands of jobs.
"[A PILOT agreement is] not something that can pay for big projects," Kenney said. "People want to do it because it's Penn. I'd certainly be willing to listen to anything [City] Council has to say or anything that's brought forward, but at this point I don't see how [PILOTs] would be viable."
Inman said Penn and the city of Philadelphia's political relationship is complicated, mainly because of PILOTs. While some argue that Penn has a "free ride" since it does not pay property taxes and therefore should pay PILOTs, Inman acknowledged that the University is still "the first and foremost provider of revenue to the city" because of its other contributions.
Now, as Philadelphia faces steep financial challenges from the COVID-19-related economic recession, demands for the University are unlikely to disappear any time soon, Inman said. He noted Penn hasn't truly had to deal with any significant financial hardship due to the pandemic.
"Penn is the one institution that has been largely immune to the downturn in the economy. We're all being paid because we're all still working, whether at the hospital or the University."
A version of this story was published in The Daily Pennsylvanian on Jul. 11, 2020.