'The campus was dead': Students who stayed at Penn last spring recount isolated experiences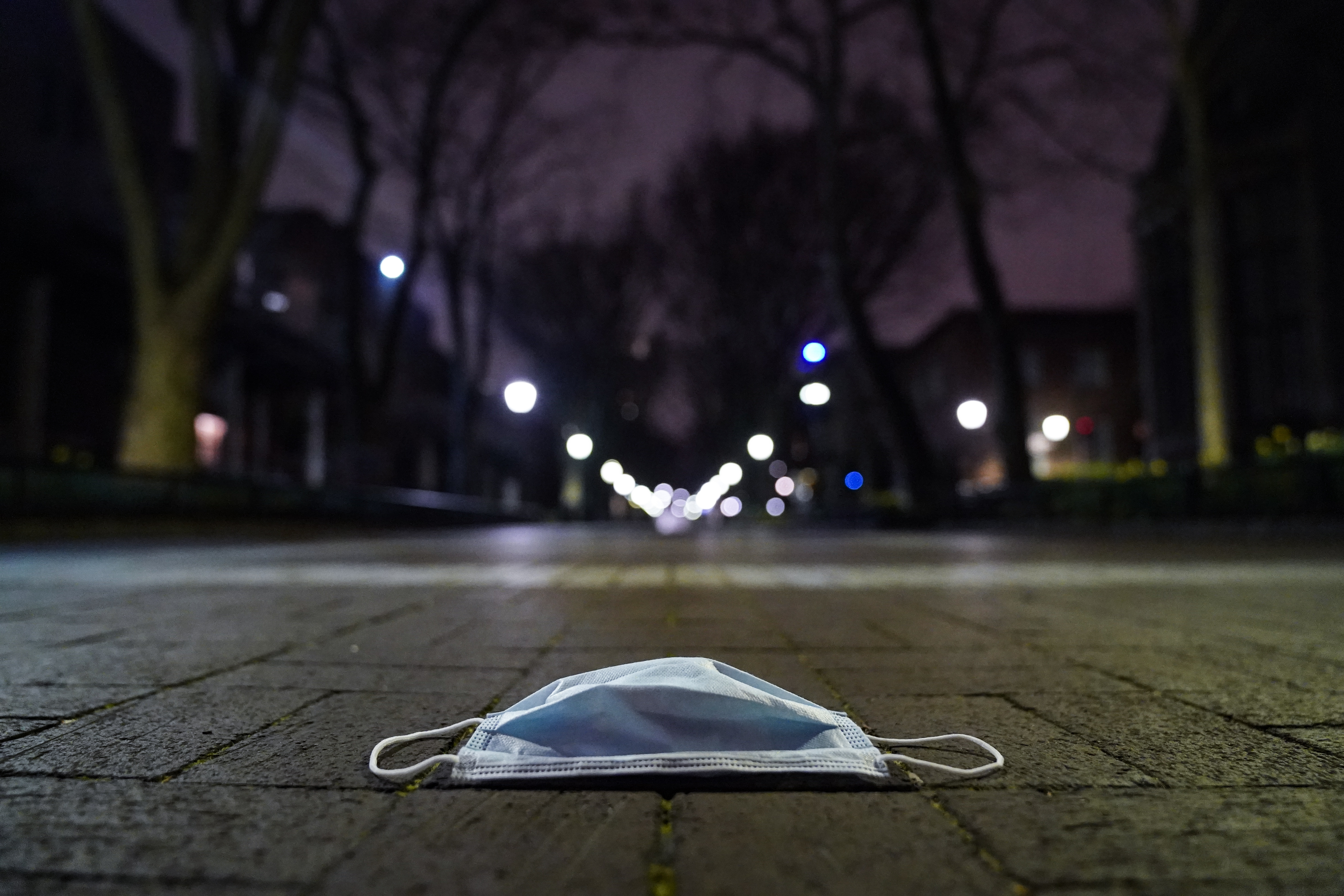 Photo by Chase Sutton
After finishing an assignment in his dorm room in Kings Court English College House, rising Engineering sophomore Muhammad Abdullah Khalid met up with rising Engineering sophomore Amelia Sharpe to get dinner from 1920 Commons.
This dinner, however, was much different from what he was used to. Khalid, Sharpe, and all of the dining hall staff protected their faces with masks. Lines of tape covered the floors of the dining hall, acting as social distancing reminders to remain six feet apart. There were only a handful of dinner options and all food was served in takeout containers. Since they were not allowed to stay in the dining hall, Khalid and Sharpe, a multimedia staffer for The Daily Pennsylvanian, gathered as much as they could carry and walked back to their individual rooms to eat.
But it wasn't just the dining halls. Life had completely changed for the hundreds of students who remained on campus after spring break.
In mid-March, Penn announced that the remainder of the spring semester would be conducted remotely after the conclusion of an extended spring break. Students in on-campus housing had until March 15 — just four days — to move out of their dorm rooms, the emailed announcement read.
Rising College sophomore Ruth Ergete, an international student from Ethiopia, said the email caused her to panic immediately.
"I was freaking out, I didn't know what to do," Ergete said. "I didn't start packing, I just froze."
The four day notice, combined with extreme uncertainty as COVID-19 quickly began spread within the United States, placed many students who were living in on-campus housing in a precarious position. International travel bans, Wi-Fi connectivity issues, and other personal reasons made it unfeasible and potentially dangerous for some students, including Ergete, to return home to finish out the spring semester.
Students unable to return home were able to fill out an online form requesting to remain on campus, but many who believed they had valid reasons to stay ultimately had their applications denied by the University.
Khalid, from Pakistan, said that his application was initially rejected. Although the rejection email said that he could not appeal the decision, he emailed Penn First Plus and other University departments to see if they would reconsider his plea to stay.
As the clock ticked closer to the move out deadline, which was extended to March 17 at 8 p.m., Khalid had packed all of his belongings and prepared to to move to an off-campus sublet apartment he had arranged. Eight hours before the move out deadline, he received an email approving him to stay.
While approximately 450 students received approvals to remain on campus, thousands of other residents rapidly left campus en masse.
2020 Engineering graduate Eduardo Ortuño, who came back to campus from a spring break trip to Ecuador while the spring move-out process was underway, said that he will never forget what campus felt like when he returned to Harrison College House.
"I remember seeing those carts out there for move out and something about that felt so wrong. It was just the sad parts of a move out, and none of the happy parts," Ortuño said.
For the students that remained, a new and more desolate campus life emerged almost instantly. They had attained the security of living on campus, but loneliness and isolation replaced any semblance of the constant social interactions that mark Penn's campus in full swing.
"When [my roommate] decided to leave, I seriously was contemplating leaving," Ergete said. "Despite the internet problems, I was like, 'What's going to be worse? Having to deal with my town and internet connection, or having to deal with being alone for the rest of the semester?'"
Although she expected to feel a sense of isolation afterwards, Ergete confirmed that she would remain in on-campus housing and was grateful to be able to stay. On March 28, she was moved from her room in Hill College House to Rodin College House.
Khalid continued to live in Kings Court English College House and Ortuño remained in his room in Harrison.
In a high rise building that typically houses over 700 people, Ortuño said that he only heard activity in two other rooms on his floor and had only one friend still living in the building. He said he could count on one hand the amount of times he shared an elevator with another person.
"It was very, very strange to see everything around me just slowly changing into a state that I did not recognize," Ortuño said. "I was living in the same room, same building, same campus, but everything seemed so different around me."
During this time — at the end of March and early April — daily COVID-19 cases began to sharply increase in Philadelphia. Non-essential businesses were ordered to close on March 17, and Mayor Jim Kenney issued a stay-at-home order on March 22.
Students cited rising rates of infections and lack of knowledge about the virus as reasons they stayed inside for the majority of the final few months of the spring semester. When they did go out, it was almost exclusively for meals.
Commons and Gourmet Grocer remained open and served as the only open on-campus food locations after spring break. Ergete, Khalid, Ortuño, and rising College junior Jennifer Locke said they went to at least one of those locations to eat, and Khalid and Locke were particularly critical of the food on campus, citing the lack of options and decreased quality.
"It was kind of like a food desert," Locke said of the Gourmet Grocer. "There was almost nowhere to get fresh food."
Once local grocery stores re-opened and restaurants began offering take-out and delivery services, Lock and Ortuño said they began to purchase their food from off-campus locations in addition to dining halls. The Fresh Grocer, the closest supermarket to Penn's campus, closed on March 6.
Whenever students did step outside of their College Houses, they said Penn's campus was virtually unrecognizable.
For Ortuño, the most immediate change to campus was the lack of foot traffic on Locust Walk and the surrounding streets, especially during typical class hours.
"Walking to the grocery store on a weekday in the afternoon and seeing empty streets, empty restaurants, everything closed around me, there's something about that that seemed very post-apocalyptic," Ortuño said.
Ergete noticed a similar lack of activity whenever she went out, especially in the earlier period after classes resumed.
"Everyone was gone," Ergete said. "The campus was dead. Dead."
Left to spend the majority of their days inside their dorm rooms, Ortuño and Locke both said the isolation took a psychological toll on them. Although both students tried to set daily routines for themselves, they found themselves unable to maintain a regular schedule. Ortuño said he sometimes cooked breakfast while listening to his asynchronous lectures so that he would not fall asleep in the mornings.
Even though social interaction was limited, Khalid said it was "emotionally exhausting" to see or speak to anyone in person, besides during his brief dinners with Sharpe. Locke said the isolation from her friends was "sad and depressing."
Forced to confront a new version of the Penn experience, the students who remained on campus found a variety of ways to cope. After the first few weeks, Ortuño said he began meeting friends around campus while adhering to social distancing guidelines. Egerte developed a habit of calling her friends on FaceTime every night, even if they had nothing to talk about. And Locke was able to get approval to have her dog stay with her in her room, which she said "changed everything."
The abrupt shift to online classes had an added impact for seniors, as commencement ceremonies across the country — including Penn's — were conducted virtually. Ortuño was less than one mile from Franklin Field, where Commencement would have been held, but he watched the livestream alongside his fellow graduates.
"I'm forever going to remember graduating from my college dorm living room, on a Zoom call with my parents, wearing a graduation cap," Ortuño said.
A version of this story was published in The Daily Pennsylvanian on Jul. 9, 2020.