'Thrill of my professional life': Geoffrey Garrett departs after six years as Wharton Dean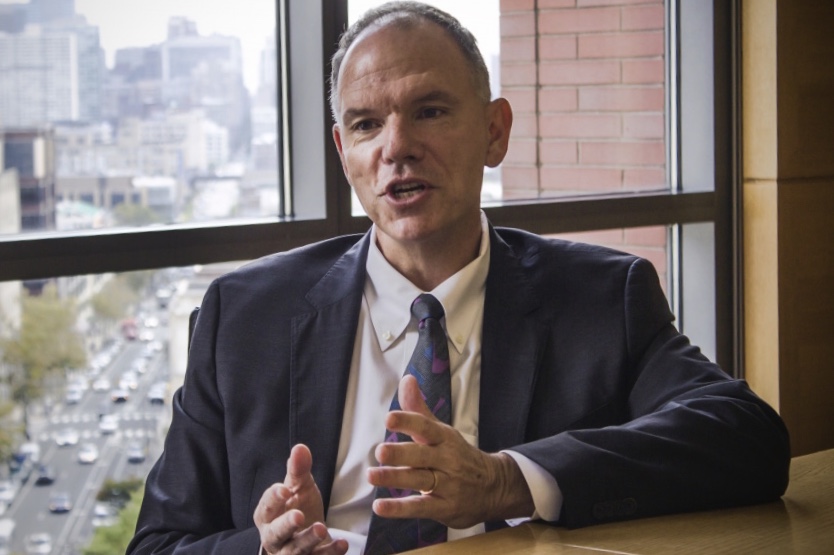 Photo by Amanda Suarez
On July 1, 2014 — exactly six years ago — Geoffrey Garrett began a new job that only 13 individuals had held before him: Dean of The Wharton School. Today marks his formal transition to his new role as Dean of the University of Southern California's Marshall School of Business.
Erika James, former Dean of the Goizueta Business School at Emory University, will succeed Garrett effective immediately. James is the first woman and person of color to lead the school in its 139-year-old history.
Garrett's departure, which Penn announced in June 2019, comes at a time of great uncertainty as universities across the United States grapple with the coronavirus pandemic. Both Penn and USC announced plans to engage in a hybrid fall semester in the past month, preparing to begin the fall semester under both virtual and in-person formats.
Though the transition becomes official today, Garrett said current circumstances have forced both himself and James to become unusually and heavily involved in their new roles — prior to actually assuming the positions.
"We've both been much more involved in our new institutions before we were in the job," Garrett said. "Really important things are happening, literally every day, as everyone focuses on what the fall is going to look like."
Prior to assuming his role at Wharton, Garrett described himself in an interview with The Daily Pennsylvanian as "an unusual candidate" for the job, citing his former location in Australia and his academic background in political science rather than management or finance.
Now, as he reflects on his time at Wharton, Garrett said he believes his position coming in as an outsider gave him some unique advantages as a leader, while also providing him with some additional obstacles.
"You have some benefit as an outsider, which is that you just have a fresh perspective and you can ask the question, 'why do we do it this way? I think that's a useful thing to do, but the flip side to that is that you really have to build that political capital," Garrett said. "It sounds like a bit of a cliche these days but I think it's really true that active listening is so important."
But Garrett was not a complete outsider when he became dean, as he previously served as an associate professor at Wharton from 1995 to 1997, where he taught multinational management.
Before Garrett returned to Penn as Wharton's dean in 2014, he served as a Wharton faculty member and a dean of the UCLA International Institute, the University of Sydney, and the University of New South Wales, according to Penn Today.
Garrett was quick to recognize how globalization has changed economic philosophies at Wharton.
"One big difference between 2020 and when I came to Wharton in 1995 [is that] at that time it was just 'go go globalization' and everybody was optimistic and excited about it. And I think right now we're on the edge of some kind of de-globalization," he said.
In his six years at Penn, Garrett made significant advancements in increasing Wharton's international presence, overseeing the opening of the Penn Wharton China Center in Beijing in 2015. Garrett also focused on expanding up-and-coming business fields, helping to establish The Stevens Center for Innovation in Finance, a FinTech research center, as well as the Wharton Sports Analytics and Business Initiative.
Construction for two new Wharton buildings — Tangen Hall and the Wharton Academic Research Building — also began under Garrett's tenure. Tangen Hall, Penn's first student entrepreneurship hub, is scheduled to be completed this August, and the Wharton Academic Research Building will be completed this November with a move-in date for spring 2021, after a seven-week construction delay.
While Garrett said that he is excited for his move to USC, he said his family played a large role in his decision to leave Wharton, as both his wife and daughter are from California and had a desire to return to the West Coast.
"Even though students see me as somebody who wears a suit and tie on a daily basis, underneath it all I'm a regular human being like everybody else," Garrett said. "In essence, I was putting my family ahead of my job."
In addition to leaving in the midst of a global pandemic, Garrett will leave Penn as protests in Philadelphia and throughout the U.S. continue, calling for racial justice and an end to systemic racism.
Garrett said that he is very encouraged by James' hiring, but said that a lot of progress must be made in terms of diversifying the student body and faculty.
"On the faculty side, I think we've made some progress but it's just much slower than anyone would like, and it's it's really because of the nature of faculty hiring," Garrett said. "It's not time for anyone to rest on their laurels. We've got an enormous way to go."
In her first public appearance as Wharton's Dean, James will appear on Good Morning America on July 1.
Garrett said he was grateful to have had the ability to have access to the power and prestige of Wharton, particularly in regards to the school's world-famous alumni network and faculty, but he emphasized that he was always most inspired by its students.
"By far the most abiding memory I'll have of Wharton is the people," Garrett said. "It's just the fact that it's a combination of how incredible all of [the students] are with the fact that I've had the opportunity to get to know you. I'll cherish that forever."
As Garrett moves on, he said he will always look back on his time at Wharton with fond memories.
"I feel really sad to be leaving Wharton because of how proud I am to have been associated with the school and just how much I've enjoyed being Dean. It's been the thrill of my professional life."
A version of this story was published in The Daily Pennsylvanian on Jul. 1, 2020.